Regular price
$35.00
Sale price
$30.00
Unit price
per
Sale
Sold out
What it is:
An innovative two-step acne treatment designed specifically for acne-prone skin.
Features a microneedle technology, it digs deep into the blemish and attack bacteria and inflammation faster than other pimple patches. 
Each Acropass patch is lined with microneedles— 1/3 the width of human hair—that enter the skin and deliver skin-beneficial, acne-fighting ingredients like hyaluronic acid and niacinamide are formed into microstructures. This structure enters the skin membranes without damaging the skin.
Salicylic Acid: Gently exfoliates skin to remove acne and refine pores.
Tea Tree Leaf Oil: Effectively regulates and purifies the skin.
Hydrolyzed Hyaluronic Acid: Allows for the formula to easily penetrate the skin while soothing and hydrating.
Niacinamide: Anti-inflammatory powerhouse that fades hyperpigmentation, increases elasticity, and strengthens barrier function.
24 prep wipes, 24 patches. 
How to use:
1. Clean your face with the Trouble Cure Cleanser.
2. Remove the white protective film from the Trouble Cure Patch with a dry hand. (Be sure not to touch the microstructure in the middle.)
3. Position the patch on the center of the targeted area (make sure the area is dry).
4. Do not slide your fingers on the patch, instead press down several times to attach it.
5. Remove after 2 hours.
Ingredients: [Skin cleanser] Ethanol, Melaleuca Alternifolia (Tea Tree) Leaf Oil, Salicylic Acid, Tocopheryl Acetate; [Microdart patch] Hydrolyzed Hyaluronic Acid, Niacinamide, Oligopeptide-76, Sodium Hydroxide.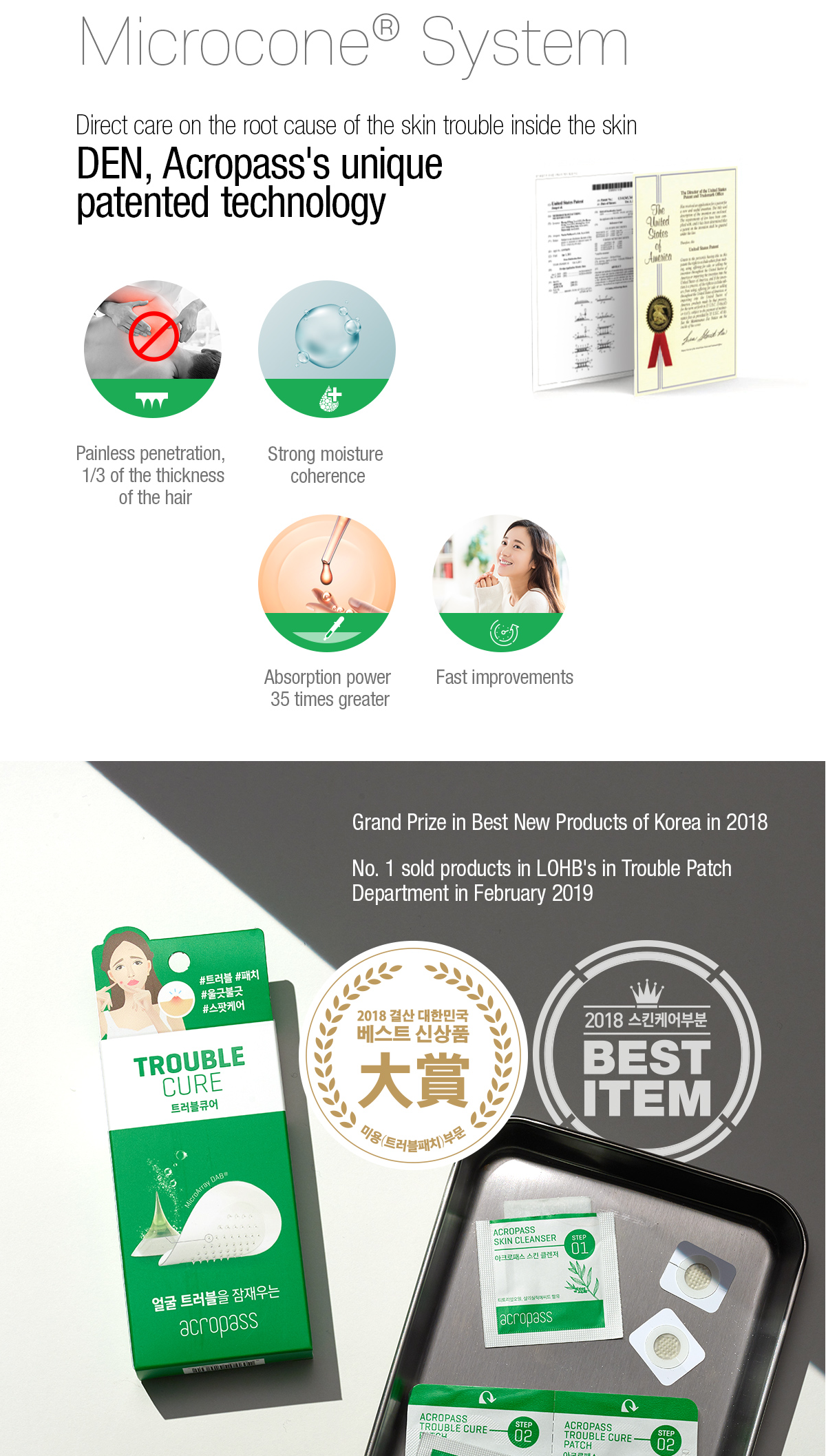 View full details